THE ROBERT DANN FAMILY
AND DANN'S DAIRY
...STORIES AND A PHOTO GALLERY...
---
February 2007; A note...As the keeper of dannreunion.com, I have in most cases cataloged otrher people's pictures and recollections. I have no first- hand knowledge of those times or those parts of the family. This part of the website is my family, and I ask you to understand that throughout this part of the text that "I" refers to Robert Dann Tilden.
---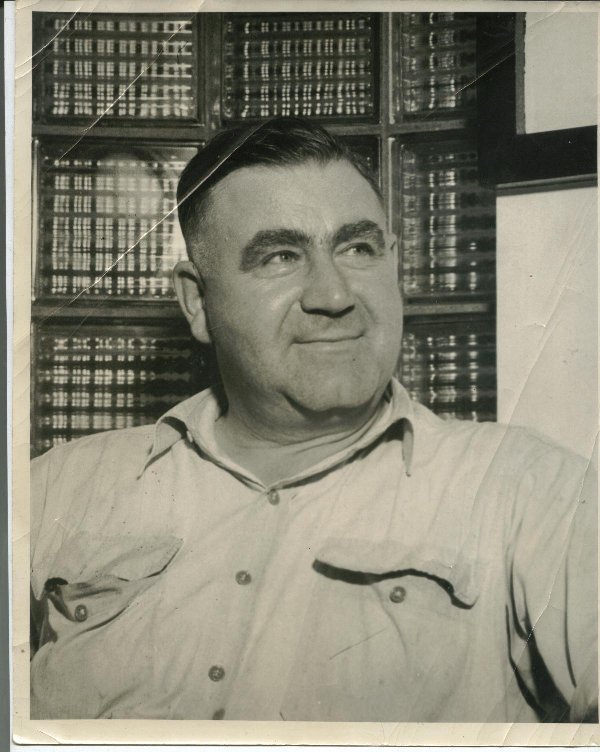 Bob Dann, 1950s. This picture was taken in the southeast corner of his dairy office. note the glass blocks behind him.
Where did those eyebrows come from?? Looking at the pictures, A.J. and F.O. did a bit better than average, but the
picture of a young Mary Mosher
(she is at the far left) is the big clue. Bushy eyebrows have followed for at least three generations.
To see another picture, a poem , and a eulogy, click here.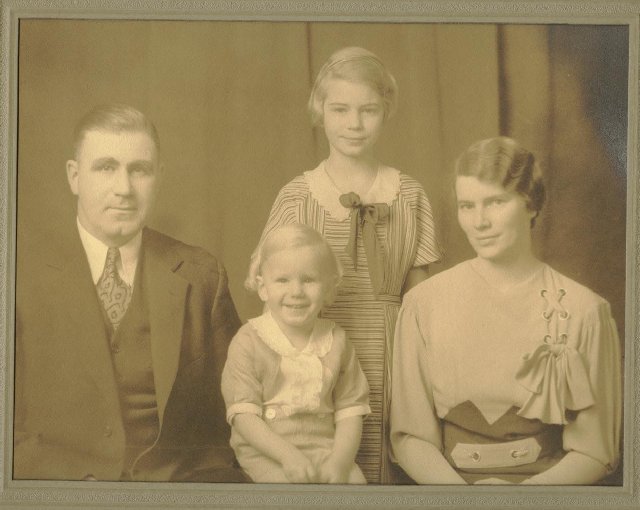 Bob Dann and Helen Breese Dann, about 1935. Virginia is standing and Ronald is seated.
To see other pictures of the Robert Dann family click here.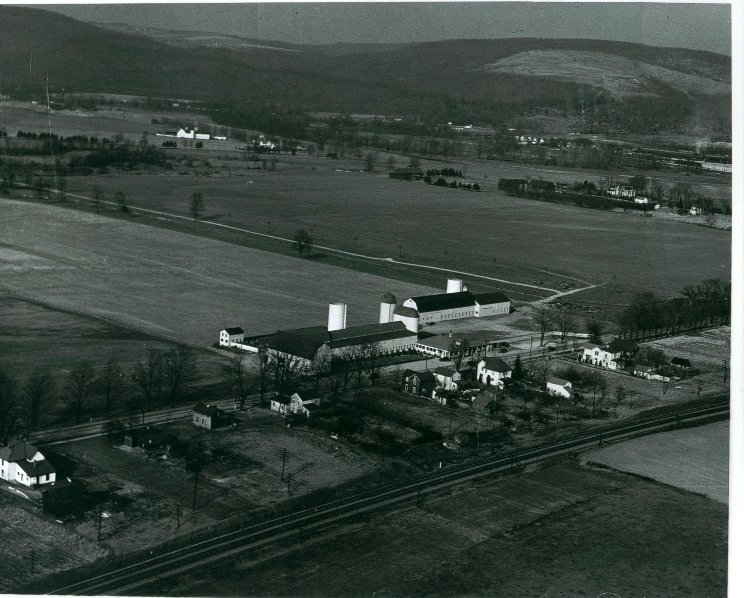 Dann's Dairy, about 1935.
To see this same area in 2006 click here.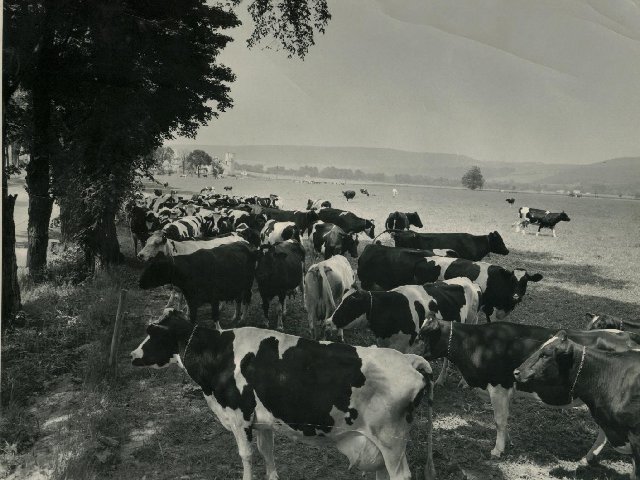 Some of the milking herd, near the corner of Canada Road and South Hamilton Street (US 15). The dairy buildings are in the distance.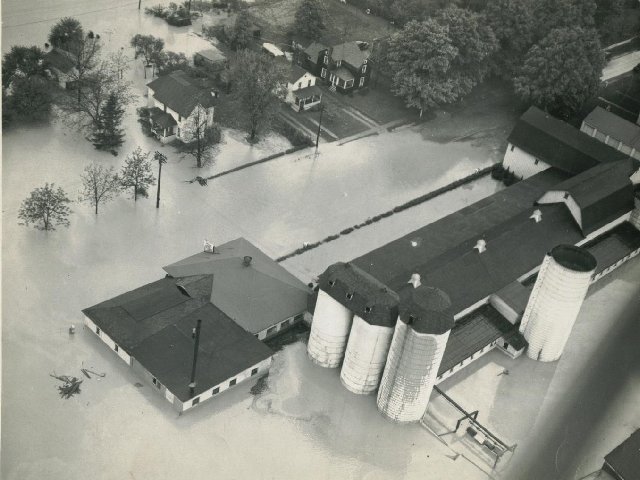 The dairy plant and barns in the 1946 flood.
To see other calamity pictures, click here.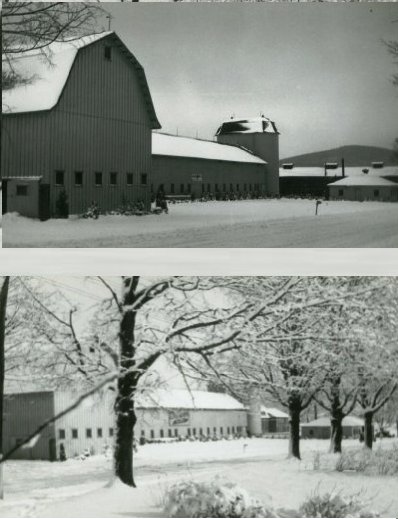 These two photographs show an interesting change in the layout of the dairy barns. Notice in the top photo; there is a barn behind the dairy bar building. The rooflne runs at right angles to the road. In the lower photograph, the barn is gone, and a barn is visible in the distance which has its roofline parallel to the road.

These two barns are actually the same barn, turned ninety degrees and moved a few hundred feet northeast. This barn was a tobacco shed (note the roof vents) when Bob bought the farm, and he moved it, converting it into a conventional barn, and attached it to the northeast end of an existing barn.

I was thrilled to notice this change in comparing these two pictures; I remember my grandmother telling of finding Bob sitting on a stump one evening, planning out the move by scraping diagrams in the dirt with a stick.


Tobaccco was an important cash crop in the area; For more information, click here.

A dairy advertisement, date and details unknown.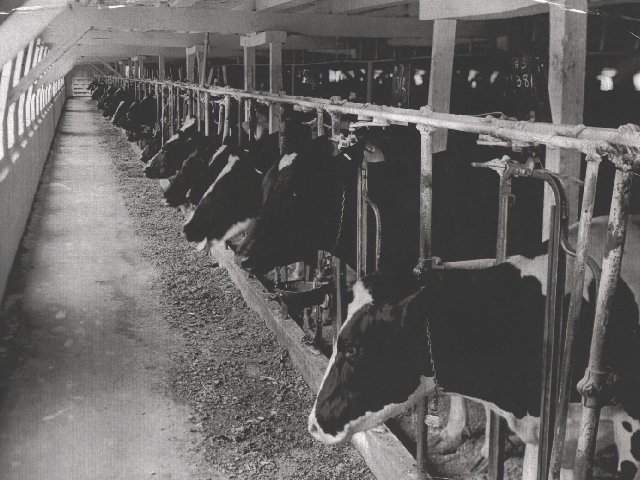 The interior of the dairy barn which burned in the mid 1950s. The wall to the left faced out onto the road (US 15).
to see other pictures of the dairy buildings click here.
In recollecting the fire, Bob's long-time "right hand man" Ken Burnside said that they always worried how they would ever get all those cows out of such a low and crowded barn if there was ever a fire. When the time came, dedicated and men got the job done. Not one cow was lost.
---
***