THE WHOLE DANN FAMILY
DESCENDANTS OF ANDREW JACKSON AND ANGELINE VAN HOESEN DANN
---
---
SUMMER 2006
Much of the information on this site has been relocated, and there have been many additions as well. The "AJ Dann" link at the upper left of the links section takes you to all the information regarding him and his family.
The "Family Lines" link at the upper right takes you to sections of the site which have separate categories for each of AJ's children. The Fredrick Orlando Dann link is further divided into "Laurance" and "Robert" sections.
The "Ancestors" link at the middle left contains links to family members who preceded AJ and Angeline, and also covers the families of each of their siblings. This information is often interesting in its own right, and in any case it is helpful for linking "our" family to any of our shirt-tail cousins.
The purpose of this site is to pool the knowledge and photographs of the entire family into one location, so that any individual can view all of the information collectively held by the entire family. Hopefully it will inspire someone who is now 40-ish to take interest in the family and pick up where the older folks are leaving off!
There is still a lot of information, and many photographs to gather into this collection; Most everybody has a tidbit or two; something on paper that can be copied, or just a recollection that needs to be written out for all to share.
Material can be sent as email text, scanned and sent as a jpeg, or copied and sent by the mail. Any originals sent will be returned. My mailing address is 3640 CR 16, Montour Falls NY 14865. My email, as well as Dotte's and Marilyn's, are at the bottom of the page as links... Bob Tilden.
Take a tour and see what is here. If you have any comments, please pass them along!



---
---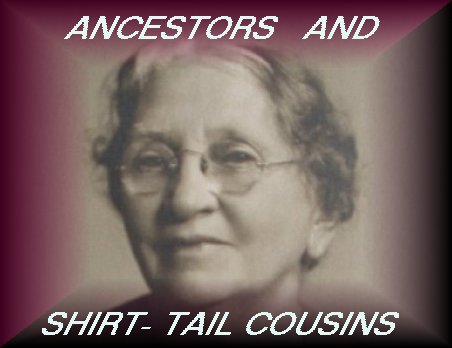 ---
---



---
---
THE SNAPSHOTS AND PORTRAITS HAVE BEEN MOVED TO THEIR APPROPRIATE FAMILY LINES
Click the "family lines" link above, and follow the subsequent links.
---
---
...And a A DISCLAIMER: Much of the information throughout this site is based on recollections, and errors are inevitable. If you have information that is contrary to anything you read here, please let us know!
---
---
E- mail Marilyn Arman
E- mail Dotte Hayes
E- mail Bob Tilden