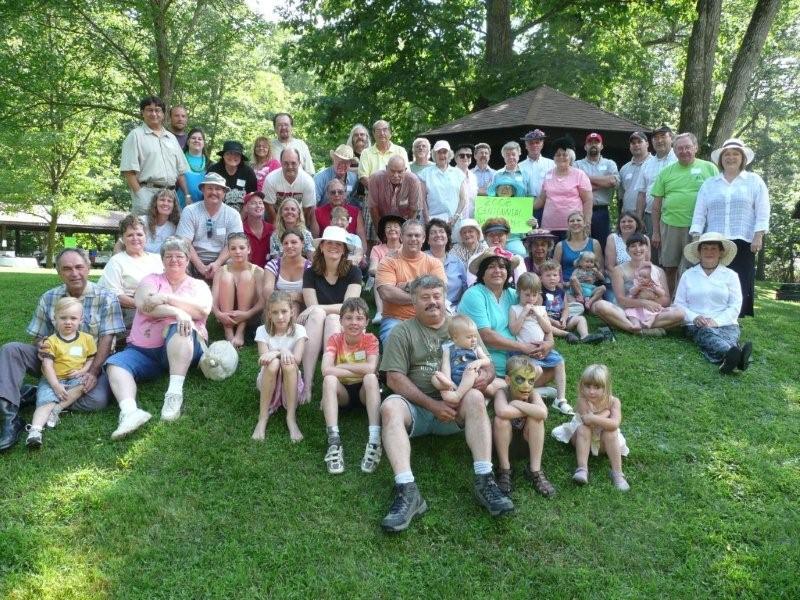 Snapshots of this reunion are available. click here to see them.
The names for the faces:

Short front row: Austin Horton (orange shirt), Kirk Smith holding Gunner Jelliff, JR Jelliff, Kyleigh Hayes-Christensen.
Next row: Ryan Dann (child in yellow), Danny (Delos, Jr) Dann, Sally Vinton, Jane Miles (long legs), Suzy Hayes (white hat), James Inman (orange top), Linda (Hayes) Smith (in blue) holding Anita Jelliff.
Next short row; Nancy Dann, Maren Miles and her friend.
Long seated row: Brenda & Tom Dann, Dan & Mary Dann, Sharon Thompson with Floyd Goodrich (red shirt) behind her, Phyllis Dann (black hat), Christina (Hayes) Inmnan (blue), Doris (Hayes) Fazzary (white hat), Donna Tilden (blue visor), Margie Hayes (purple top) with Tyler Hayes-Christensen in front of her, Lindsey (Dann) Dietrich holding Meghan Dietrich, Hilke Dann behind, Christy Dann w/ baby Rachel, and Barbara (Dann) Horton (white top).
Stand & Sit row: John Hayes (Margie's son), Margarita (Smith) Jelliff (green top), Joanie Dann (in black), Jay Horton, Jim Dann (straw hat), Phil Dann (red shirt), Dotte Hayes, Alice Dann (behind the green Centennial sign), Ruth Hayes (in orange), John Uszenski (green shirt), and Marilyn (Dann) Arman (white top).
Back row: Josh Jelliff, Diana (friend of Donald), Donald Dann, Gary Dann, Sam Fazzary (yellow shirt), Steve Hayes (short beard), Jean (Hayes) Morris (sun glasses), Jim Morris, Ginny (Dann) Tilden, Bob Tilden (behind her, in woman's hat), Brad Dietrich (red hat), Jeff Dann (blue hat), Doug Dann (head behind John U). Jay Horton's wife Terry unaccounted for, appears to be a gray head behind Ruth that must be her.
Not in picture: John & Jewell Hayes who had left, and Mike Arman and Chuck who were in process of changing manpower at the ticket booth. [Chuck is in Brenda's picture, NOT in yours].
Had total of 51 adults and 12, age 14 and under, for total of 63 attendees by picture time.
---
Candids for the 2008 Dann Reunion. I don't have many good pictures... if you have any, email them, and I will post them for everyone.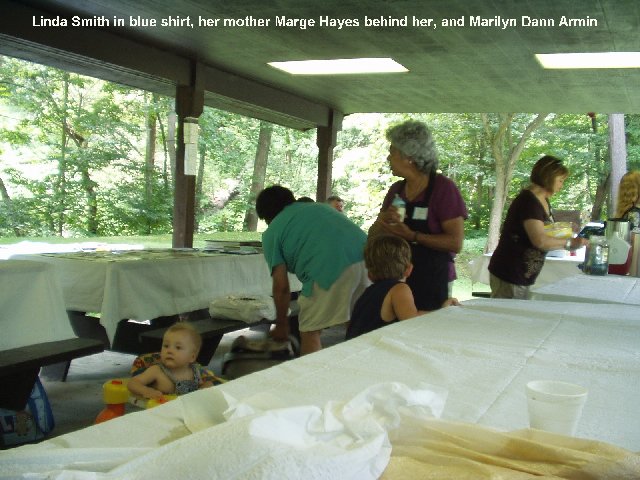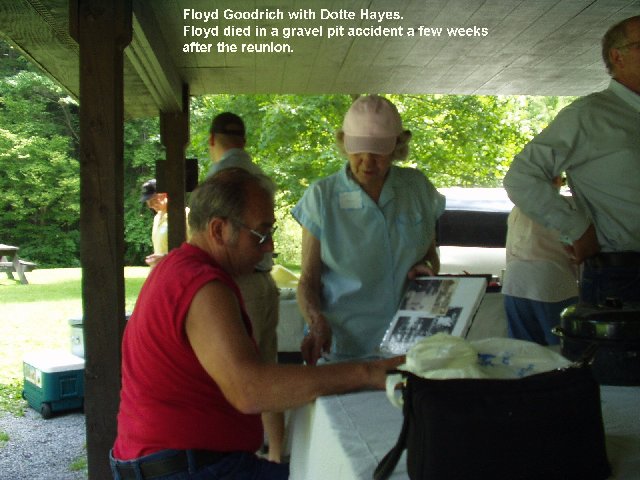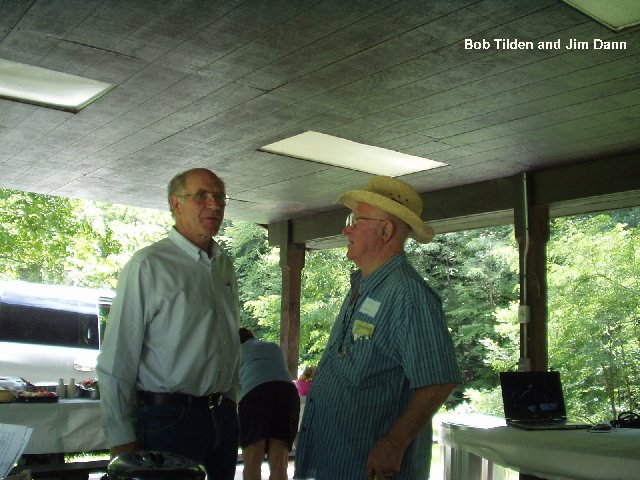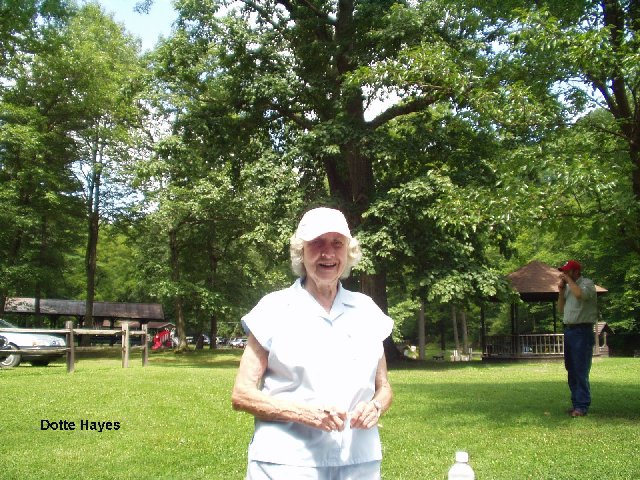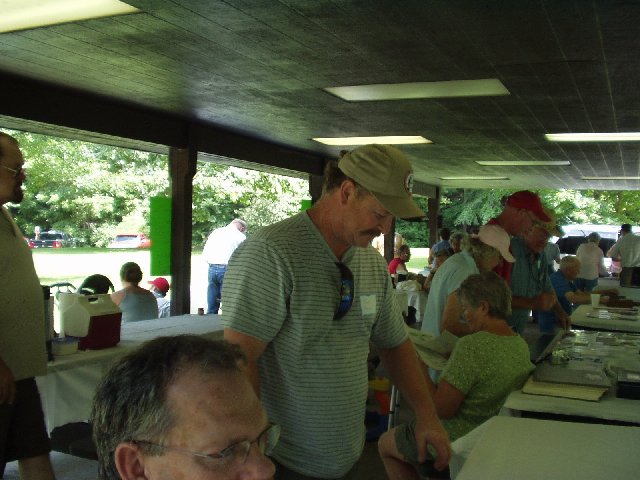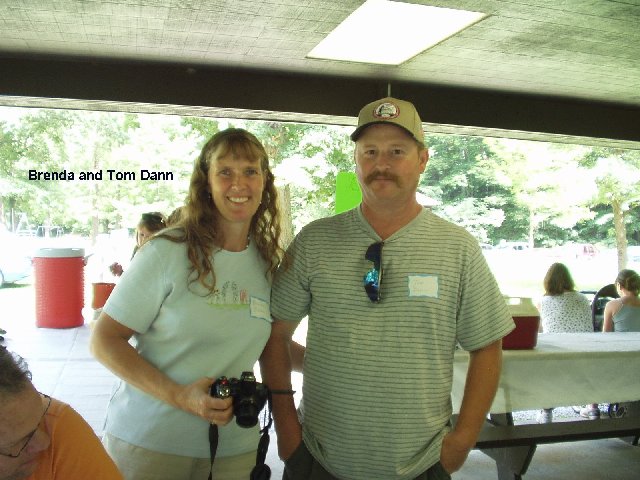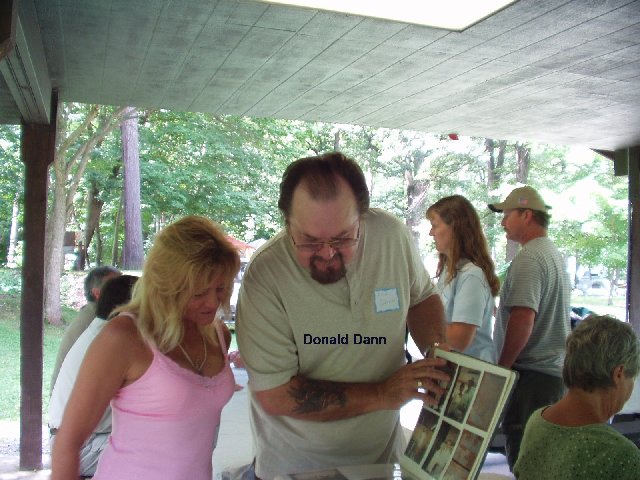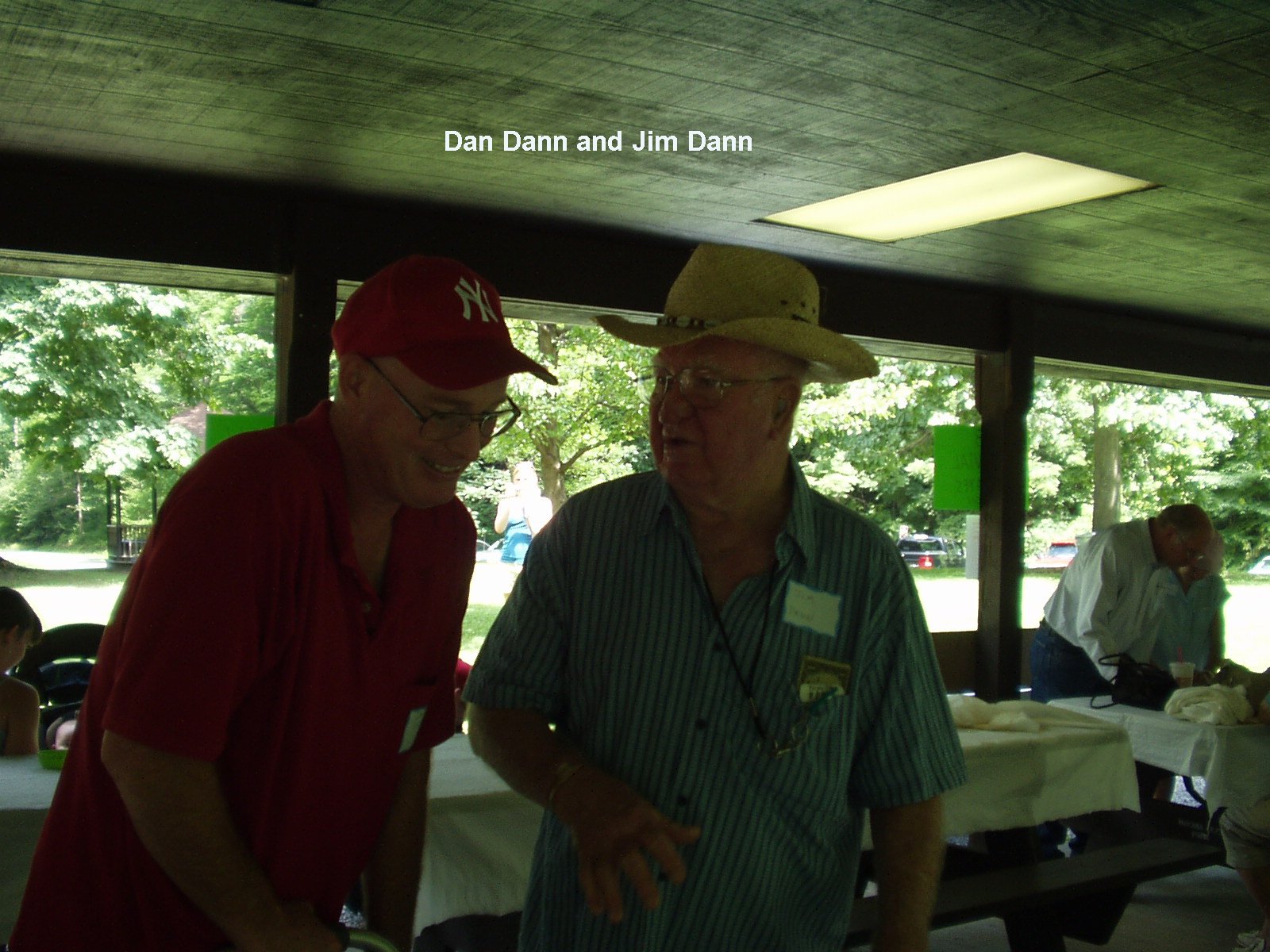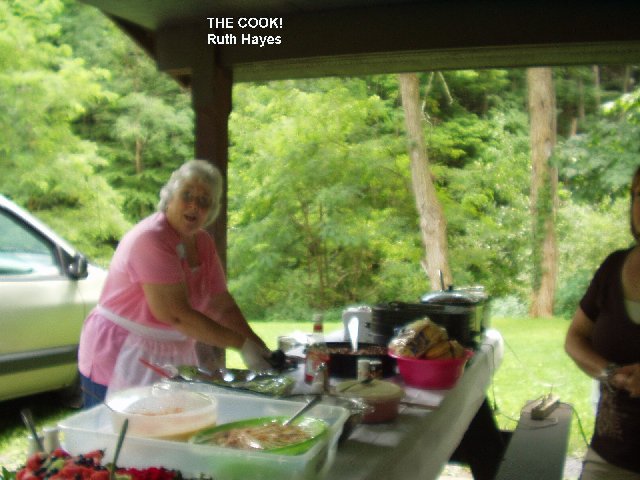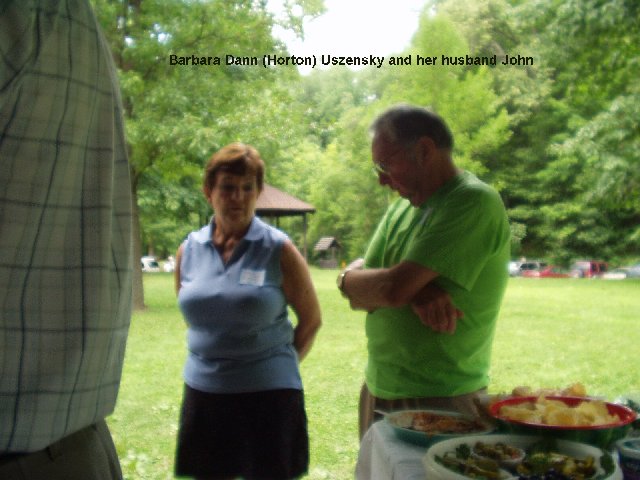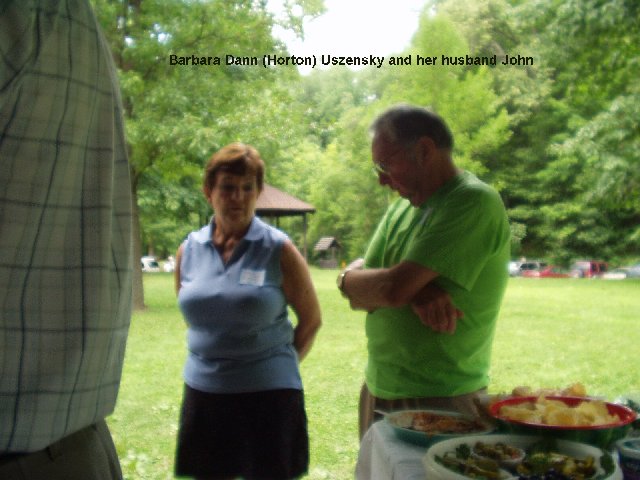 From Marilyn Armin: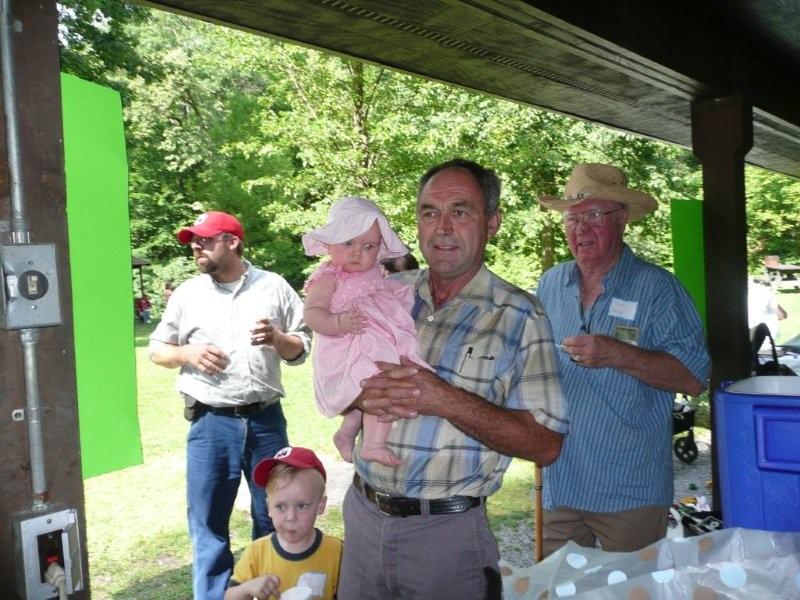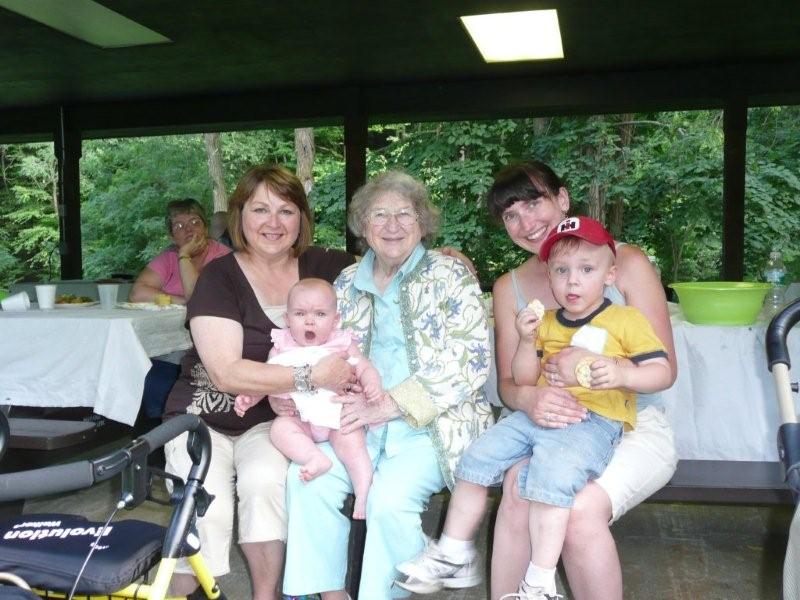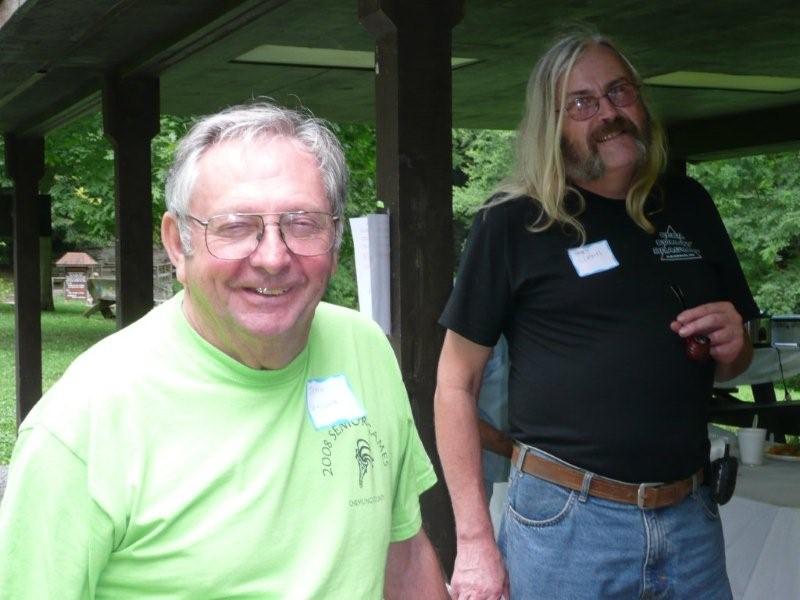 ---
Return to Home Page
Return to the reunion index page