THE VAN HOESEN ANCESTORS

Jan Franse Van Hoesen was the immigrant ancestor of all van Hoesens in this country. He came from Husum, Schleswig, Denmark and settled in the Dutch colony of New Amsterdam. His arrival date is not known, nor is it known if he and his wife Volkertje Jurriaanse were married before they camr to thid country. The first record of them is the baptism of their oldest child Franse on September 30, 1640.

Little else is known of the family unti they start to show up in records in Albany NY in 1645. I have quite a bit of information of our line of Van Hoesens as they moved around the Albany area, westward and then southward through Tully, NY, Preble, NY Union PA and eventually Hornby NY. I have information on other lines as well, and all will make it to the site as soon as I can type it.

In the meantime, here is a diagram of the Van Hoesen genealogy. It is taken from the charts provided by Jeris Dann and also information from Dorothy Van Hoesen Whitcomb.

Diagrammed below is quite large, and it is difficult to grasp all the lines without being able to see the whole picture. Unfortunately, if I make it smaller, the names become illegible. I will post this now (May 2007) and try to make improvements. It is my plan to make most every name block a link totext which describes them.

Across the top of the chart are three couples, with Jan Franse and Volkje in the center. Flanking them are the Van Buskirk and Hardick families, two families who are well- mixed into our family. At the bottom of the chart are Richard Vandenmark Van Hoesen and Rachel Jemina Van Hoesen, parents of Angeline Van Hoesen Dann. Moving directly up from their names is their ancestry back to Jan Franse and Volkje.
---
THE VAN HOUSEN GENEALOGY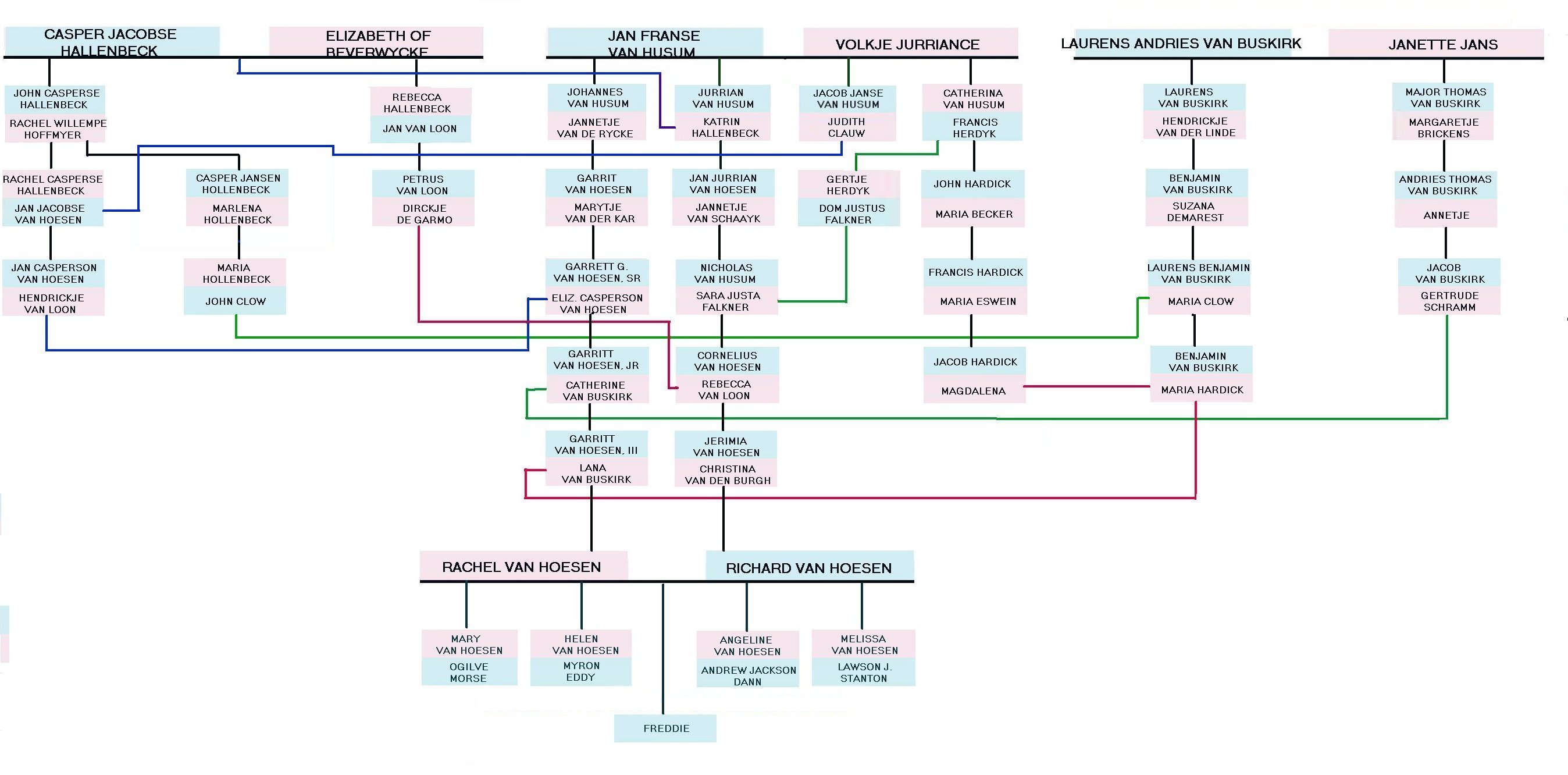 ---
Diagrammed below is a map of the Van Buskirk lines within the Van Hoesen family. It is a detail of the right side of the larger diagram above. Note that all names written in blue ink are links for more information about that person. click the name to read their story. We have a little bit on everyone, but don't miss Jacob, Catherine, or Laurens Andries!
---
The two Van Buskirk lines in the Van Hoesen family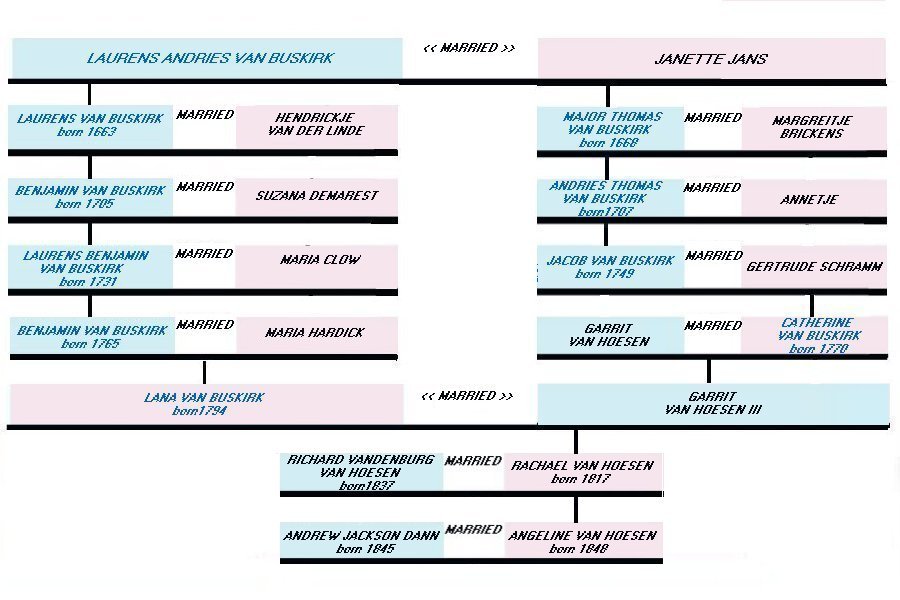 ---
This Van Buskirk information was provided by Emma Lou Stanislav, descended from Melissa Van Hoesen Stanton. She has worked hard to preserve our family history but wishes thet credit for this information be extended to the following people: C. Wesley Murray and Paul Van Buskirk. Reference papers of Elizabeth Selick Murray, Stanley Sellic, Jacob and Johnathan Van Buskirk, Sir Fredrick Haldimand, and CM Van Tyne "Loyalists in the American Revolution"