Andrew Jackson Dann properties in Steuben County
In late June of 2006 I went to the Steuben County Clerk's office to find out where the Erwin Farm may have been. I quickly located a 200 acre purchase by A. J. Dann located on what is now West Hill Road. I am still unable to pinpoint the property, because it is defined mostly on the basis of neighboring properties... Bounded east by Potter Estate, west by Hodgman and Platt, north by Emery and Pierce, and south by Potter estate. It is in Liber 156, page 559.
There is only a mile or two of this road in the Town of Erwin, so the property is fairly well located even now... Pretty much it is on the hillside, just outside of Painted Post, and only a few miles downhill from his previous Hornby farm. I am working on more.
In the short search of the "grantee" index I found several other entries for A.J. Dann within the few years of his move to Erwin, and they bear out his reputation as a "wheeler- dealer". There were purchases of 97 acres and 10 acres in Hornby, a lot on Market Street in Corning, and 15 acres on Winfield Street on Corning's north side. I am sure that a further search will reveal more transactions.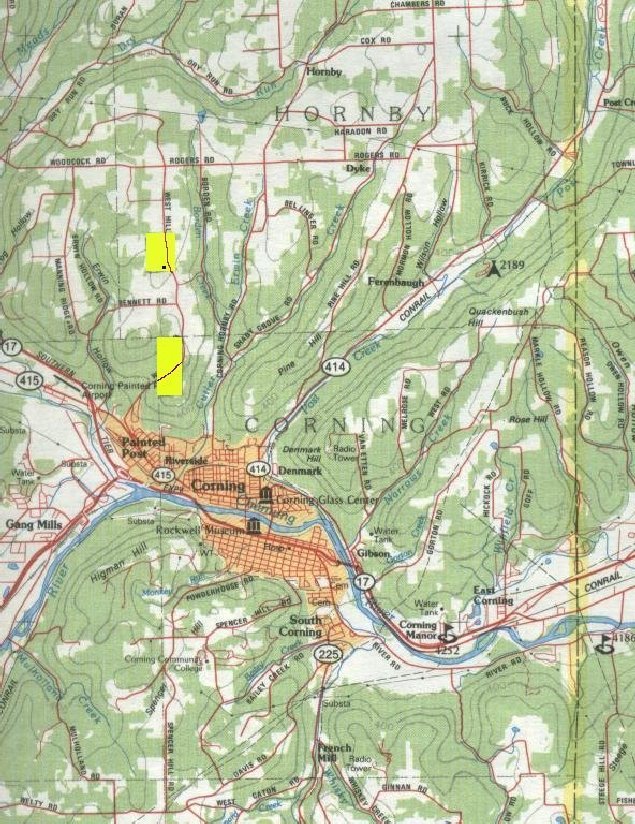 A contemporary map of the Hornby area which locates both of A.J.'s Steuben County properties. The upper yellow rectangle is his original farm purchased in 1867, and the lower rectangle is the Erwin farm, purchased in 1878. Because of a shift in the location of the town line, his address is sometimes listed as "Erwin" and sometimes as "Corning" during this period.
***************
Pictured below is the entire length of West Hill Road in the town of Erwin. Note that this segment of the road isn't much more than a connection between the uplands and the valley. It is sloping and wooded. The A.J. Dann property was near the top of the road where you can see several houses along a residential road.
Corning West High School is in the foreground and the village of Painted Post is just beyond the right edge of the photo. I will take better picture on some cool crisp day, and hopefully locate the actual homesite.