CORA ANNA (DANN) & DANIEL LINCOLN HAYS/HAYES -- Their Farms and Life 1887-1930s
Compiled by Dotte Hayes, a granddaughter...with input from others...to show how different their life was from that of their descendants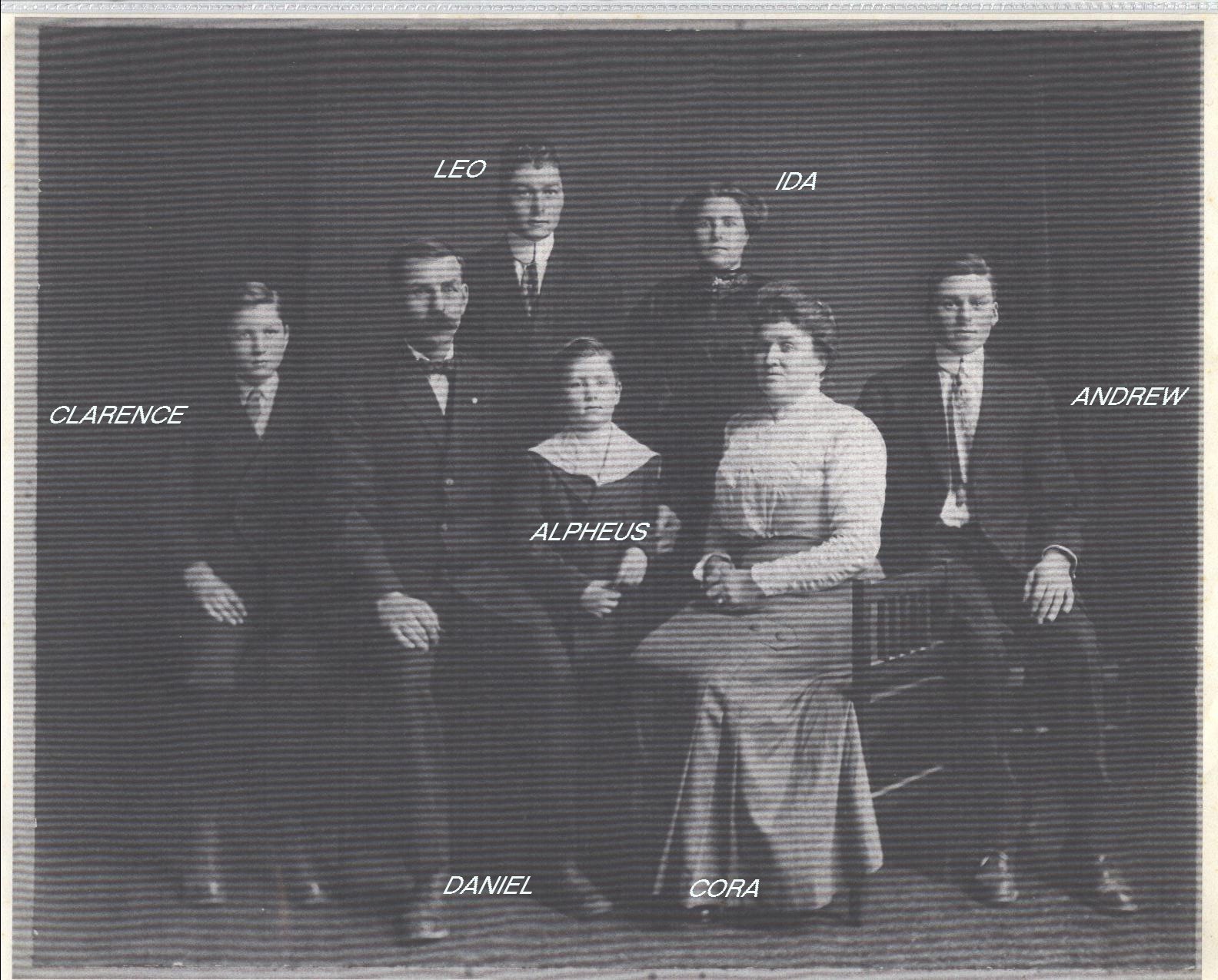 The Daniel and Cora Dann Hayes family.

Cora Anna Dann Hays (b.1866 d.1936) came to Schuyler County in 1884 when her father (Andrew Jackson

Dann) purchased a 200-acre farm near Moreland. She was born in Union Township, PA, but moved to Steuben County, NY as a small child, was living in Hornby Township in 1873

[per 1873 map], and later lived closer to Corning. Coras VanHoesen grandparents lived in the community of Hornby Forks prior to the 1870 census until his death in 1894. Probably it was during visits to them that Cora met her future husband. In 1885 she married Daniel Lincoln Hays (b.1865 d.1930) who lived in Hornby. During 1880-1884 his father, Rev. Russell Draper Hays, was the minister at the Baptist church in Hornby Forks; in 1894-95 (prior to his 1895 death) he was at the Baptist church in Watkins.

Our earliest known HAYES ancestor (born 1655 in Scotland) came via England to Connecticut prior to 1682. The first Dann ancestor in the U.S. (born in Barbados) came to CT prior to his 1684 purchase of land and 1685 marriage. Daniel generally used "Hays" although his children seemed to use "Hayes" by the time the oldest son entered Cook Academy. Interesting were the Military Census and Inventory of 1917 cards, both signed by Daniel L. Hays (

as agent). One card is for Cora A. Hays and the other is for Clarence Milo Hayes (their son).

The comment passed down by our older generation was that all Daniel owned when he married was a team of

horses. Soon after their marriage, they went to PA where he earned money skidding logs to purchase their first farm. In 1887 Cora and Daniel purchased a 50-acre farm near Moreland, Town of Dix. He also farmed on shares a nearby 103-acre farm owned by a widow. These farms were approximately a mile southwest of Havana [

now Montour Falls], apparently on northern end on what was named Gano Rd by 1999. [See 1893-94 Business Directory and map which shows this unnamed road 50; directory states both of these farms were on road 50.]

They sold it in 1895 to purchase a 100-acre farm on Upper Footes Hill Rd (northwest of Odessa), in Town of Catharine. It was the next to last property on that road; on the east side it extended down to the Texas Hollow Rd. The eastern side of the farm consisted of woods and some records mention "a good stand of timber". In 1898 they purchased 37= acres from their neighbor on the south, probably to have additional tillable land.

In 1908 they purchased an additional 114-acre farm, located approximately one mile east of Montour Falls, Town of Montour, known as Fenton Farm, which they named Willow Grove Dairy Farm because of the several large willow trees across the front lawn. This farm was purchased because they wished to start a retail milk delivery business in the village in addition to their farming operations. During the week ending January 20, 1919, for example, 1514 quarts of milk were sold at 9" per quart. Willow Grove was the prefix used for name of registered cows as recalled by grandchildren. During the early years there was an "ice house" on the farm for storage of blocks of ice used to cool the milk. Ice was harvested during the winter and packed with sawdust to keep it usable through the summer.

This became the dairy farm when the adjacent farms were purchased. The barn was enlarged and remodeled during the 1920s with "modern" metal stanchions & automatic water bowls for 48 cows (included the oldest heifers that would soon be in the milking herd) and a shed was built to house the calves and the herd bull.

Also built during this period was a two-room milk house for processing & storing the milk and for washing & sterilizing the bottles, milking equipment, etc. These procedures included the milk passing over an aerator to remove odors and running over cold tubes for quick cooling before entering the bottler where it went into appropriate size bottles, and received a cardboard cap. Bottled milk was placed in small crates with a slot for each bottle, then placed in the walk-in cooler/refrigerator until time for delivery. A concrete coal bin for all the coal needed to fuel the boiler was added during this period, and a deep well had to be drilled to provide all the water required for the processing and cleaning operations plus the additional animals at this farm. During the 1930s pasteurization equipment was added.

The retail milk business grew from taking milk from a large can in the horse-drawn wagon, purchased in 1908 for $75 [

see picture], and pouring it into the housewifes container to the use of glass bottles with a narrow neck in which the cream settled and could be scooped out, if housewife wished. A truck had replaced the horse and wagon by 1924 when the sons were active in business [see picture]. By then milk and cream were delivered daily, early in the morning, to the porches of homes in the village. Because the milk business included the producing, processing and retailing of milk from their cows and the on-farm milk plant, by latter part of 1930s the slogan, From Producer to Consumer, was written in color across the side of the bottles.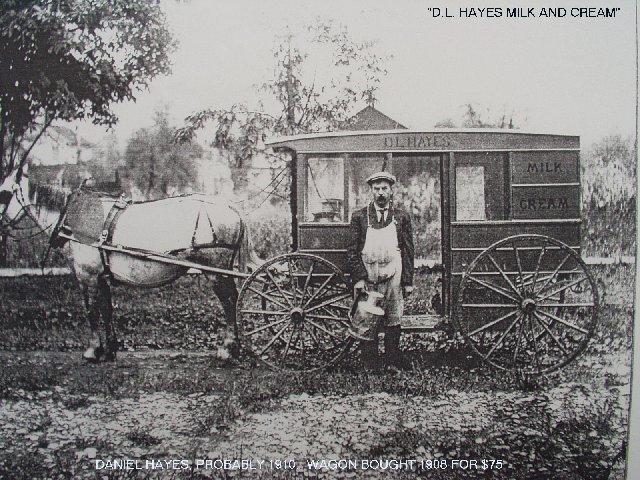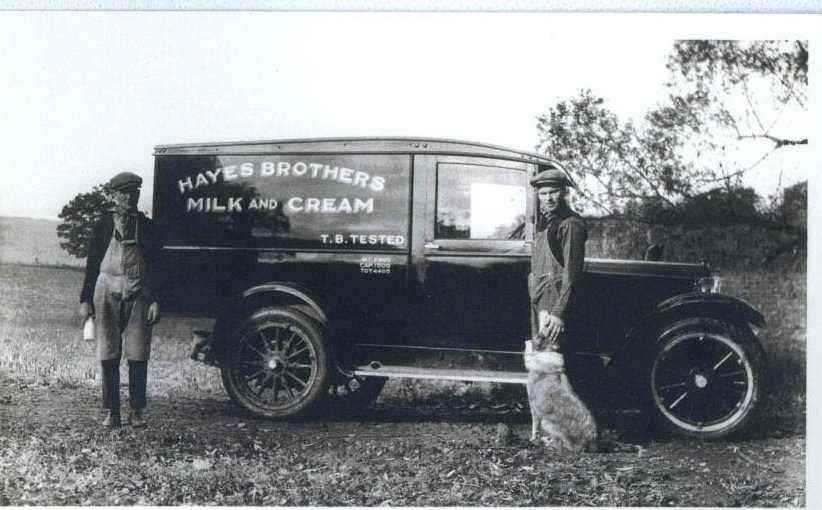 When Daniel delivered milk via horse and wagon, he undoubtedly put the wagon box on some type of sled during the snow season, although unable to find verification. There were two known times when Hayes Rd. was impassable due to severe washout/flooding. These were the 1935 & 1937 floods and milk was delivered by a team and wagon driven across the fields to enter the main highway

[in those days] above the curve and hill section leading to the village.

Three tall silos (for corn silage) were built adjacent to the barn. The 1921 cashbook shows paid $333.51 for

Crane silo and $10.40 for freight in January, and $562.50 for silo and $74.68 for freight in October. These were the traditional wooden silos. Date of the first silo is unknown. However, it was before 1919 because an ensilage cutter worth $100 and silage (under feed inventory) are listed on the January 1, 1919 farm inventory.

A grandson who lived on the farm during those early years said the white silo was made of "aqulite", the first of its kind in the area, and that the same type of blocks, but much smaller (about 3/8" thick), were later used for Coras new kitchen floor in the Stoll house. The 1923 cashbook shows Daniel paid $126.00 for "aqulite" in January. A younger grandson (who later grew up and worked on this farm) recalled the "white silo" as made of cement blocks which, by the 1940s, were pitted from the silage acid making it possible to see the pebbles/stones inside. The blocks locked together like tongue and groove. In early 1954 he used two of the left-over blocks still on the farm for winter weight in the back of his new Dodge truck. Years later he recalled these blocks as approximately 3-4 inches thick, 2= feet long, one foot wide and weighed between 50-100 pounds.

Cora and Daniel appeared to think of farming as a business, rather than simply as a "way of life", from the beginning of their marriage with Cora as a partner rather than just a housewife. They had joint ownership on all the 1887 through 1917 deeds to their farms. The 1919 purchase was when the sons were involved in the business. The expenses and income for those early years are interesting and some are included in this "history". Very little information was found before 1919 and only a limited number of their later cashbooks, etc.

Family members recalled that Cora did the bottling of the milk in the early days of the glass milk bottles -- when it was done in the basement of the Willow Grove Farm house that had a large spring-fed cold-water cistern.

They also remembered her as a good cook and one who frequently entertained for meals and for extended visits by relatives. A granddaughter recalled her young childhood days when Cora made lemonade and served it in small glasses to the young grandchildren seated on her porch where there was a honeysuckle or a wisteria vine to provide shade on a hot summer day. Extended visits included "taking in" Daniels 3-year old niece (who was 7 months older than Coras child #4) for several months when the girls mother died and later two elementary school-age grandsons from Ohio for more than a year (although by then she was in her 60s) when their mother died.

Daniel was a progressive farmer involved in the new ideas/methods promoted by the Farm Bureau/Extension Service and other agricultural groups during their early years in the county. He not only planted the new recommended varieties of wheat and corn but also sold these new seeds -- the seed corn cost $4 per bushel in 1919. He was an early member of what became DHIA (Dairy Herd Improvement Association), a state and national organization to improve milk production quantity and quality. Soon after this association was functioning in Schuyler County, one of his purebred/registered Holstein cows was honored as one of the top 5

cows in NYS for her milk (1,838 lbs) and butterfat (84.6 lbs) production for month of May 1924. Statewide there were 8,488 cows on DHIA test. The 1928 report states that the Hayes herd was the largest DHIA herd in the county. Milk quality issues in the years before pasteurization included the need for a Grade A rating to sell raw fluid milk and cows free from tuberculosis and brucellosis, major bovine diseases which affected human health. In 1917 the federal and state governments launched a program to eradicate bovine tuberculosis. The brucellosis (Bangs) eradication program came later. Daniel was an early supporter and recipient of these ratings and his sons followed his lead.

They kept the Footes Hill farm for additional cropland from which they sold hay ($1,106.00 worth in March 1919), beans ($507.72 worth in April 1919) and wheat (349= bushels for $750.70 in October). There were apple and potato sales throughout the year although one entry for December 1919 showed $167.59 for potatoes. Plus they had oil/gas leases [

tho there is no indication these were ever profitable!] and grew oats, buckwheat, and barley on this farm. Perhaps beans also, have no verification. The apple trees and currant bushes were still productive into the 1930s.

The house was torn down during early 1920s for lumber needed to repair the house on the farm purchased in 1919. The barn was used for storage of crops through the 1920s. I found nothing re demolition of the barn; it was gone by mid-1930s. Their sons used this farm primarily as pasture for heifers as it had excellent supply of spring water and ample pasture.

Dairying was the primary business and income; however, Daniel and Cora had a diversified operation during most of their farming days, as was typical of farmers in that era. Throughout the years they sold pigs and a February 1927 cashbook entry showed a $62 purchase of a sow from Cornell University. They also had chickens and sold eggs, plus selling "breeding service" from the bulls.

Beans and bean straw seemed to be important crop during the early years, but unheard of on dairy farm in later years. For example: in April 1919 sold $507.72 worth of beans, in December 1923 sold $336.63 worth, in January 1926 sold 8365 lbs of beans for $583.33, and November 1928 sold 5219 lbs for $357.28. The January 1919 inventory shows 16 tons of bean straw worth $156.00 and a bean harvester purchased in 1917 worth $25.

In February 1917, Cora and Daniel purchased the adjoining 164-acre farm, known as Stoll Farm. This not only provided more acreage but it had two large barns, a smaller storage barn (with a basement and "yard" where pigs were kept), and a wagon/machine shed. One barn was referred to as the horse barn into the 1940s. The other had some wooden stanchions (yet during the early 1930s) on one side used to house heifers during the winter. Daniel also stabled young horses in this barn. This property had a much larger house located a few hundred feet across the road from the 1908 house. Cora and Daniel with their 3 unmarried sons moved here. Cora also boarded farm employees. By mid-1920s, some southeast rooms

(facing Hayes Rd.) were made into an apartment where each of the two younger sons lived during the early years of marriage and where Cora lived after Daniel died. [Apparently there was not an "apartment" when A. Stoll shared the house]. Their daughter with her husband and small son moved into the Willow Grove Farm house in the spring of 1917.

In 1919, the 162-acre farm, known as Fisher Farm, on the west side of each of the above farms was purchased. However, information such as the specific buildings and acreage in crops, pasture, etc. reported on the January 1, 1919 inventory and comments by grandchildren indicate that this farm was used prior to the date shown on the deed [apparently as early as 1916]. Sometime later the small barn on this farm was enlarged to house cows, some young stock and 4 horses. It had a small house at time of purchase that was used as a tenant house for married farm employees. Cora and Daniel never lived on this farm.

By time of Daniels death, the younger sons were married and lived on these farms as follows: Fenton (Willow Grove) farm -- Clarence, Stoll farm -- Alpheus, Fisher farm -- Andrew. The sons operated these farms under the name of Hayes Brothers until April 1, 1932 when that partnership was dissolved. Clarence and Alpheus then operated their farms as Hayes & Hayes and used Willow Grove Dairy for their dairy business.

Sometime after 1908, the road on which these three farms were located was named Hayes Road. It is shown on the 1857 map but with no name.

Approximately 1> miles long, it connects Footes Hill Rd. to the highway going into the village of Montour Falls [which was the main east-west highway from Odessa to Montour Falls during their lifetime].

All three farms on Hayes Road were in the Town of Montour. The Willow Grove and Stoll farms were in the Odessa school system and on the Odessa telephone system. The Footes Hill farm, in Town of Catharine, was not only in the Odessa system but also the same rural school district. The children living on the Footes Hill farm 1895-1908 and those on the Willow Grove farm 1908 through 1925 went to the wooden one-room building located on a short road between Footes Hill & Upper Footes Hill roads.

[The school and road were gone long before 1990; road is on 1959 map and grandchildren believe school building was still there then. That road was 2 tenths of a mile from top of Hayes Road. The school is shown on 1857 & 1874 maps. It was District #14, joint with Towns of Catharine & Montour, and known as Footes Hill school in 1874, as listed in Town of Catharine by M.L.C. Cleaver, 1945]. By the fall of 1929 that school was closed and the children (by then the grandsons from OH) were transported to the village school in Odessa, but they had to walk from the Stoll farm up to the Footes Hill Rd. to meet their driver.

Although Coras and Daniels formal education was limited, they believed in education and contributed to the Cook Academy Endowment Fund.

Cora and Daniel used a PO Box

[#268 in 1919] in Montour Falls for their mail and also shopped and attended church in Montour Falls.

The Lehigh Valley Railroad [

had stations in Odessa and Burdett] went through the upper end of Willow Grove and Stoll farms all the years that Cora and Daniel lived there. In November 1890, 5= acres from Stoll Farm and in January 1891, 4.71 acres from the Fenton Farm were deeded to the railroad. A narrow tunnel was built under the railroad enabling Willow Grove Farm cattle to get to the pasture located above the tracks. Grandchildren recall using this tunnel to take cows to/from pasture yet in early 1930s. [The last train was on December 9, 1977; the tracks were later removed, and the land sold to various individuals.]

Some Interesting Items/comments re "Life Back Then", Most Which Were Unusual Before the 1990s

It was common for young farmers to work "on shares" with a neighbor as Daniel did in 1887, and apparently not unusual for a family member from previous owner to "come with the farm" as occurred with their 1908 and 1917 purchases. The odd cents for purchases/sales is puzzling as there was no sales tax back then!

Re the Fenton Farm: The 1868-69 Schuyler Business Directory shows owner Claudius Fenton, Havana, farmer 118 acres. The 1875 census lists "Howard Fenton age 21, son of C.C. Fenton, no occupation, blind for 19 years - had brain fever. Other material indicates that Claudius and wife both deceased by March 1906. Some Hayes family materials mention "old blind man Fenton". During April 1992 conversation, Coras daughter-in-law Charlotte said she remembered hearing about the blind man "who came with the farm when Cora and Daniel purchased it".

The 1857 map has S. Weavers name and 1874 map has C. Fentons name at location of this farm. Weaver sold to Fenton in 1867. In the 1930s there still was a 2-story house with an attached woodshed only a few feet east/behind the larger house which Cora and Daniel moved into in 1908. Probably this was the original farmhouse. It appeared to be used for storage, and probably rooms for the hired help, by Cora and Daniel. The above daughter-in-law recalled hearing that the three sons, the then-unmarried daughter, and hired help all lived on the Willow Grove Farm.

Re the Stoll Farm

: February 23, 1917 Cora and Daniel received warranty deed from Ada Zena Stoll for 164-acre farm in the Town of Montour. Some of the wording from deed is: "part of the consideration of the purchase price of said premises was an agreement to permit said Ada Z. Stoll to use and enjoy certain rooms in the dwelling house. for the term of her natural life the exclusive use, possession and enjoyment of the room on front floor, commonly known as the parlor, and the bedroom over the same on the second floor, known as the southwest bedroom; and the use and enjoyment in common with the parties of the first part the room on the first floor with bay window, commonly known as the reading or piano room, with the privileges and appurtenances connected therewith, together with the right of way to and from said rooms and to and from the highway and yards of the said premises"

The January 1, 1919 inventory listed 27 cows, 23 heifers, one mature bull, 15 horses, and 577 acres in the four farms. [

Quite a change from the minimal "possessions" owned when they married.]

During 1921, paid $489.20 for "wiring the houses",

and in December purchased electric irons for $10. These undoubtedly were Christmas gifts for Cora and [daughter] Ida. The sons were not married. The houses apparently had electricity before the barns! The October 1921 cashbook had a $550 payment to EWL & RR Co for line; other information shows this cost was to extend the electric transmission line to the farms from Montour Falls.

The grandson who lived on the farm, as a child in the pre-electricity days, recalled helping Cora with the milking when the milking machines were operated by a foot pedal (similar to the sewing machines at that time). When the men were under pressure to complete planting/harvesting work, Cora would take charge of the milking. Inventory book shows Pine Tree milkers were purchased in 1923 for $350 and Hinman milking machines in June 1924 for $388.00. No information was found re earlier milking machines or when machines were first used.

The 1919 expenses included: $12.40 for a barrel of flour; $66 for ton of cow feed to Odessa Mills (apparently grain for cows); $50 for husking corn; $2.25 for dog license #207350; 50" each quarter for the PO box rent; telephone payment of $10.80 in December but no indication if only one month.

Farm magazine subscriptions: September 1919 paid $2.00 for American Agriculturist, probably for 12 issues annually

. [Note for comparison: in 1992 (its 150th anniversary year) my subscription was $12.95 per year.] March 1924 paid $2.00 for Hoards Dairyman for 3-years. [Comparison: in 2005 the cost was $32 for 3 years/60 issues].

Found no information when obtained their first telephone. An early snapshot, probably taken the spring of 1908 or 1909, shows a pole near the lawn that apparently was for the telephone line. The Odessa telephone system was formed in 1904.

December 1921 paid school taxes of $61.81 to Harrington (

apparently for the 3 farms in the Odessa school system) and $36.75 to Sherrer (apparently for the farm in the Montour school system). [Back then they were separate school districts/systems.] Also during 1921, had a weekly "labor" payment of $11.52 to a man who was a farm employee and a good horseman, as recalled by the grandson. In August 1923, received $51.75 for "road work"; does this imply there was no town highway department and the owners did needed repairs to the road through their property? In 1927 received $128 for fair premiums but found no information about what was entered.

The first tractor, a Fordson, was purchased prior to August 1921, when it needed $88.40 worth of repair parts. However, information re the horses indicates the tractor was purchased in late 1919 or in 1920. Decades later a grandson (

who always had special interest in horses) recalled that his fathers mare Minnie was part of the team used to pull this tractor to get it started and one day (when he was a young child and was watching) she strained so hard that she ruptured herself and died circling in pain before the men could get the harness removed. Inventory records show that the replacement mare for the team was purchased in 1920.

The first car for which found information was a 1920 Dodge. Possibly the Samson truck was the earliest truck; however, the only expenses found for it were $24 for annual license January 1926 and 1927 and 50" for a crank in July 1926. Grandsons who lived/visited on the farm during the 1920s recalled this vehicle in detail 70 years later because it was so unusual, "was not a conventional truck.

It had a Chevrolet motor; was about the size of the 1990s ton trucks; had NO cab, was like a wagon box -- a flat bed with engine below the bed. The driver sat in left corner w/ his feet next to the engine. It did have rubber tires and speed of 20 mph. It was used only on the farm, NOT for the retail milk route".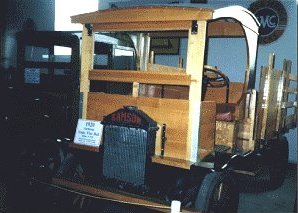 A 1920 Samson Truck. The cab and roof of this truck were likely built by the owner.

During 2004, I found a picture and this info on the Internet. "The Samson truck was built along side the Samson tractor in Janesville, Wisconsin starting in 1918. The Janesville Machine Works was a subsidiary of General Motors and only built Samson trucks for a few years A 1919 model was priced at $995 plus "war tax". "The company produced two sizes of trucks, three-fourth ton and a 1< ton. Advertising said they could be adapted for lumber, coal or department store deliveries and freight haulage.

Advertising, also stressing dependability, was directed toward farmers. The most important extra was wheel extension bases that enabled the trucks to be used in soft or plowed fields. Their average speed on dry land was 15 mph. The trucks were produced through the 1923 models. The three-fourth ton truck sold for $655 and the other for $1,095."

A common annual/periodic task was whitewashing the interior of dairy barns. This was similar to spray painting but with a mixture of lime & water and was done to kill "bugs" and to freshen up/brighten the interior of the barn. The walls had to be swept free of debris, cobwebs, etc. and the cows water bowls, the light bulbs, etc. had to be covered before the spray truck arrived. Based on early cashbooks, the cost was between $6 and $10.

Daniel had been busy cleaning the dairy barn one May day in preparation for whitewashing. He had an "attack" that evening which the doctor called "indigestion". He died sitting in his chair.

Cora also remained active all her life. One night a son took her to Elmira to see a Will Rogers movie [he was a well liked entertainer of that era]. The next morning she was found dead in her bed.

The Farm Bureau newsletter, May 1930 issue, included this, "

It is with sincere regret that we learn of the sudden death of Daniel Hayes, one of the outstanding farmers of Schuyler County. His accomplishments as a farmer will long remain in business management and efficiency; his influence in public welfare, service and home life a memory to cherish by all who knew him."

There was no Social Security and no "retirement plans" in those days, Farmers kept working as long as able to do so with younger family members taking over the more strenuous tasks. The life expectancy for people of their generation was much less than for those born later.

[Example: even for the 1900 births, the average life expectancy was age 45. Yet Daniel lived a few days past his 65th birthday and Cora was 69. However, the average age always had a wide range from low to high: Daniels three older brothers all died before age 5 and his younger sister died at age 3, his father lived to 71 and his mother to 76. Coras parents each died at age 74.]