February, 2008

THE ANCIENT DANNS...
FROM ENGLAND TO WILKES-BARRE VIA BARBADOS, STAMFORD AND NORWICH

Several years ago I divided this Dann history into "Current" and "Ancient" at the point where Philip Dann married Maryanne Cure. Since that time, much information about Philip's father Seth has come to light, and I would like to bring his family into the "current" category, but for the sake of simplicity, I will leave him here. I doubt that we will ever know nearly as much about Seth's family as we do Philip's.

There is a family lineage which I previously displayed on this page, but it has several errors, among them is that it shows our Jonathan (b. 1752) as a son of Ebenezer, rather than as a brother. Both were sons of Francis (b. 1727). The previous lineage chart can be viewed here.

In a nutshell, John Dan (b. 1615- 1620) departed England for Barbados and died there.(buried Jul 10, 1678)

John's son Francis (b. 1659 in Barbados) settled in Stamford CT and married Elizabeth Clason. ( Click here to read of her mother's trial for witchcraft).

Children of Francis and Elizabeth:

Elizabeth Dann (born 27 Aug 1686 in Stamford, CT)
Abigail Dann (born 30 Mar 1689 in Stamford, CT - Died @ 1716 in Stamford, CT)
John Dann (born 1691 in Stamford, CT) David Dann (born @ 1693 in Stamford, CT - Died Bef 30 Mar 1788 , buried in Stamford, Stamford, CT)
Rebecca Dann (born 25 Aug 1706 in Stamford, CT - Died 1716 in Stamford, CT)
Jonathan Dann (born 9 Nov 1709 in Stamford, CT - Died 1754 in Stamford, CT)
Abigail Dann (born 30 Mar 1699 in Stamford, CT).

Their son John (b. 1691,above) married Deborah Greeen on Oct 1, 1719. For the next three generations the families are reported in various locations in Connecticut and New York, but these locations I believe are fairly close together.

Children of John and Deborah:

John or Joseph Dann, born Feb. 11/19, 1720, and died ye same year
John Dann, born June 1, 1721
Nathaniel Dann, born July 16, 1723
Ebenezer Dann, born June 11, 1725, and died May 29, 1753
Francis Dann, born May 30, 1727
Thaddeus Dann, born Feb. 28, 1729
James Dann, born Apr. 27, 1731
Deborah Dann, born Aug. 14, 1733
Abraham Dann, born Dec. 10, 1735
Reuben Dann, born Jan. 1, 1738, and died Aug. 7, 1739
Reuben Dann, born Apr. 17, 1740
Jemima Dann, born Sept. 19, 1742

Their son Francis, (b. 1727 above) married Mary Brown.

Children of Francis and Mary:

Jane Dann, born Sept 18, 1750
Jonathan, born March 7, 1752
Esther, born July 1, 1754
This record of children is from probate records dated upon Francis' death in 1765. There may have been other children who were not minors or had not survived.

Their son Jonathan married "Rachel" who has no recorded last name. I am told that Jonathan traveled as far west as the "Genessee country", south of Rochester before settling in the Chenango county town of North Norwich, New York. He is listed as the original settler or as one of the original settlers of the town.

There is more information on Jonathan, based on a visit to Chenengo County in 2011. Click the link to see it.

The children of John and Rachel:

Seth, born December 8, 1773
Abijah
Jonathan
Philip, born November 11, 1782
Betsy, born 1784
Francis, born 1788
Miranda, born 1794

Their son Seth (b. 1773, above) married Jane Munger. He is listed as a blacksmith in the town of Abington, northwest of Wilkes-Barre for most of his life.

Children of Seth and Jane:

Abijah, born Nov 25, 1796
Philip A., born April 13, 1798
William, born June 20, 1800
Rhoda, born May 6, 1801
Seth, born August 7, 1805
Anson, born April 3, 1807
Harvey, born Feb 25, 1812
Silas, born Feb 11, 1814
Jane, born Nov 4, 1816, Jonathan A., born Sep 22, 1819
Ichabod, born Nov 5, 1825

Recently much information has come to me through the work of Dan Dann. Much of the data above and the tidbits below have come from sites that he has pointed out. He is a descendant of Seth... (Seth jr > Seth Warren > Floyd Berton > and finally James Lewelly Dann). Dan lives among a group of cousins in Palermo NY,deep in the snow north of Syracuse.

THE LANDS OF THE ANCIENTS... WHERE ARE WE?
A current map of the area.
Note that "dantown" is marked near the upper right.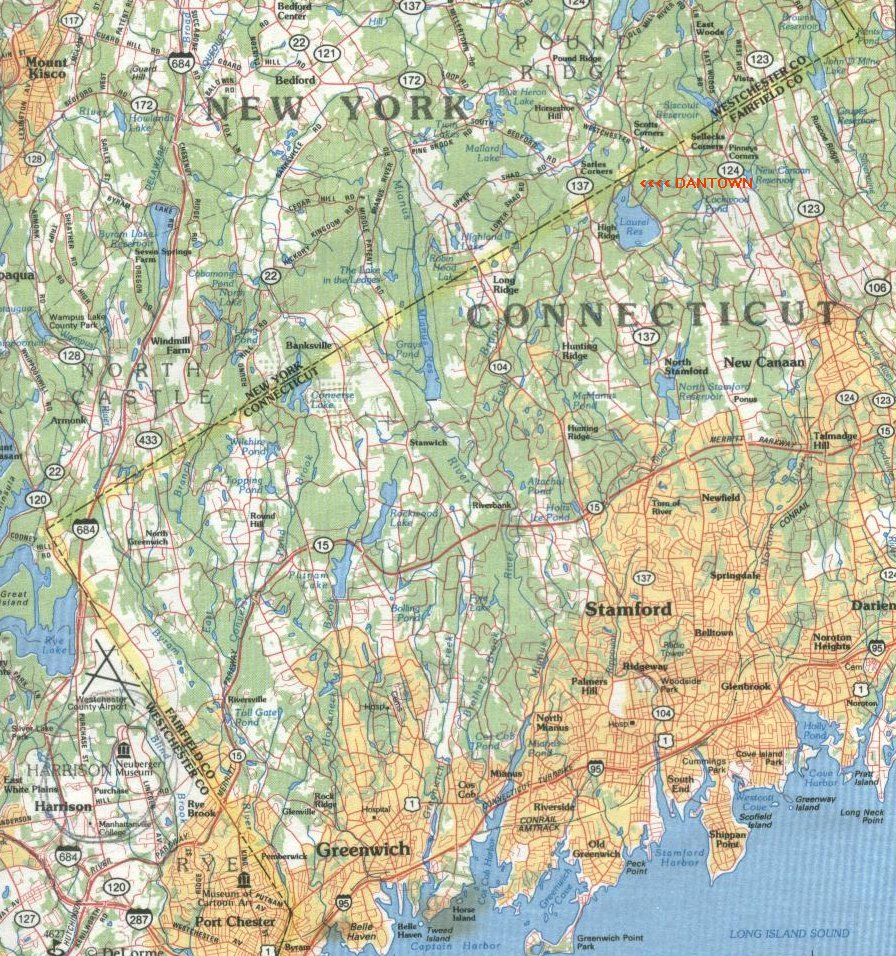 The records spoke of many Danns settling in an area north of Stamford which became known as "Dantown". A map of it is reproduced below in a hand- drawn map dated 1915. A visit to Google Earth shows no indication of the Dantown Church or cemetery, but it does show the church and cemetery in near-by Sellicks Corners. North of Sellicks Corners is a residential loop named "Dann Farm Road".
Some sunny spring day I would like to go there and take some photos for us.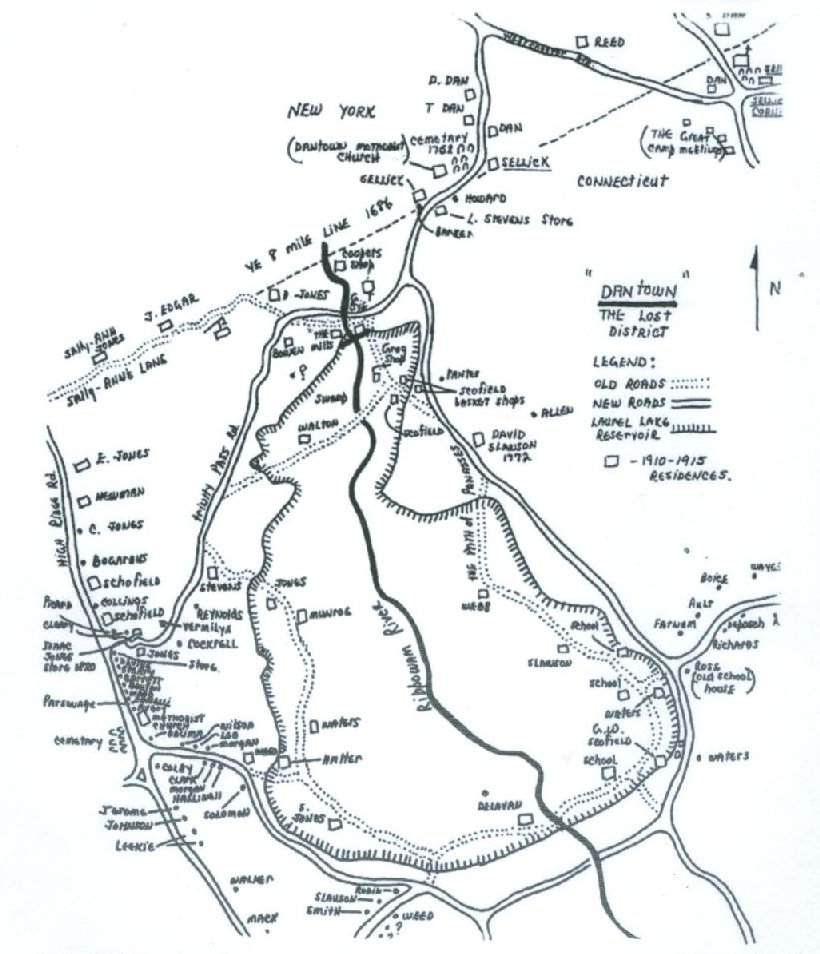 A map of "The Lost District" of Dantown about 1915 showing the location of roads, homes and an outline of Laurel reservoir. This is the area northwest of New Canaan where Isaac Selleck lived and were James Selleck, Sr. was born. The upper right hand corner of the map shows the Selleck Corners Methodist church and cemetery. The Dantown Methodist church and cemetery are located in the upper center of the map. The date on the cemetery is 1752. This is the cemetery were Isaac and Sarah Selleck are buried. "Ye 8 Mile Line," is the boundry between the states of Connecticut and New York established in 1686.

August 2011: My wife and I visited Dantown. Click this link to read about it.

The Danville area became famous in the late 1800s and early 1900s for the production of woven white oak splint baskets. They were used in many agricutural trades and especially in gathering oysters. Here are two links which pertain to it. This link, http://www.stamfordhistory.org/ph_0406.htm details the work of Rezo Waters who was married to Charlotte Dann. Another link, http://query.nytimes.com/gst/fullpage.html?res=9E05E2DE1130F932A25756C0A961958260&sec=&spon=&pagewanted=1 A New York Times story mentions a Dann family engaged in the trade. Both are interesting.

LISTED BELOW ARE SEVERAL LINKS SHOWING THE MANY OF THE DANNS OF THESE DISTANT YEARS. Much of the information is repetitive, but each one has unique tidbits, and none show a complete picture. They are valuable though because in many cases, they bring the family lines up to a point where many contemporary records can "attach" to them.

The first is an ancestry of Jared Handspicker: http://www.jedh.com/src/genealogy/Full07a-p/p157.htm#i7801 . This is primarily a list of descendants of Abraham Dann (b. 1735); move the cursor to the top of the page and click the "surmane index",click again on "D", and scroll down to "Dann".

All the "Stamford Danns" are available at this web address: http://worldconnect.rootsweb.com/cgi-bin/igm.cgi?op=SHOW&db=gen1775&recno=12377 . A couple of pages of Danns are listed, along with their placement within the family. This might be the best document to use to find how seemingly unrelated Danns "came from".

These two links deal with some descendants of Ebenezer Dann, a son of "our" John and Deborah. They lived in Broome and Cortland Counties. http://www.rootsweb.com/~nycortla/adanna1.htm and http://www.dcnyhistory.org/books/breview2.html (scroll down to "Darius Dann)

This link, http://genforum.genealogy.com/dann/messages/311.html has much the same information as others, but note that Abijah, a son of "our" Francis and Mary was born in Vermont, indicating that his parents, born and died in Westchester, did not remain there all their lives.