CURE FAMILY GENEALOGY
A.J. Dann's mother was Mary Anne Cure, and an excellent genealogy of the Cure family exists at
.http://home.swbell.net/tjgriffi/weir/elias_cure.html.
Mary Anne is shown in the "third generation" box on page 1.
Should this link be unavailable, Click here to view the 6- page file as a series of photocopies.
...SYNOPSIS...
Our interest in this history centers around Mary Anne Cure, the wife of Philip Dann, and the mother of A.J. Dann. She is first shown in the chart labeled "Generation Three" on page 1. The genealogy traces her family back to her grandparents' birth in Europe. It also reveals a few other tidbits of ancestry and general history, specifically:
PAGE 1: Note that William Cure was born in Chenango County and passed through Luzerne County PA and Union Township of Tioga County PA. He died in Nebraska, suggesting that he joined the migration to the Great Plains from the Town of Union. Several of A.J.'s siblings and in- laws were part of this migration to more fertile lands.
It is interesting that A.J's grandfather Seth was also born in Chenango County, and settled in Luzerne County. The families seem to have known one and other for several generations.

PAGE 2: Note that Alonzo Cure married Mary Dan in 1855 in Luzerne County. A guess puts her birth as 1835. She was not a sibling of Philip Dann, A.J.'s father. Other Danns were apparently in Luzerne. (Luzerne County is northwest of Wilkes- Barre PA)
PAGE 6: The glories of "family"... John Cure (dad) died in 1842 and was buried in Park Cemetery in Canton. The 1850 census shows Elizabeth Cure (mom) living with her youngest daughter Emily and her husband "Youngest daughter" is somewhat of an understatement... Emily was born in 1833 and her mom's first child was born in 1805.
Emily and her husband are buried alongside their father (there is no record of Elizabeth's burial).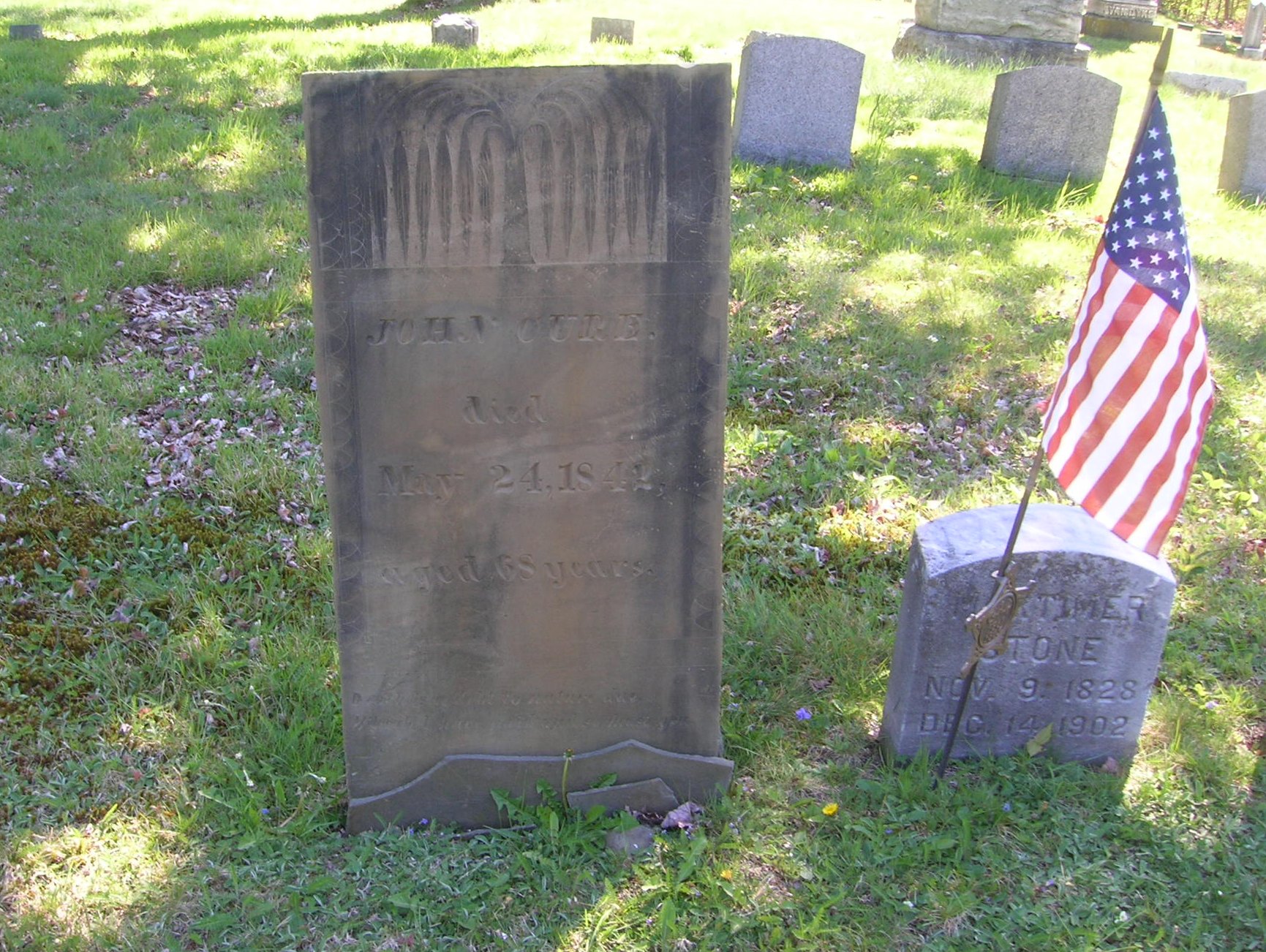 John Cure's stone in Canton PA. A very knowledgeable cemetery volunteer suggests that this was a re-interrment from a rural burial. The cemetery, he says was started in the time of the Civil War, but this stone is much earlier... It is the oldest date in the cemetery
John, Mortimer, and Emily's stones in Park Cemetery. The smaller stone between Mortimer and Emily is John Stone.